As much as we would like to we can't add to this New York Daily News article about the Brooklyn Middle School that just five years ago was down from 1200 students to a bare 165 students before Ben Honoroff and his staff turned the school into one of the best schools in the five boroughs by making debating a major driver of classroom education. The debate program has taken MS 50 from almost being closed down to being one of the best schools in New York City. We believe in the power of debate to change lives and this is one of the best examples of this principle that we've seen.
Principal Honoroff and his kids should be extremely proud and our hats are off to all of them – and their parents! This article shows how debate gives kids incentive to work harder and learn more while being easier and a lot more fun for the teachers. Our sincere congratulations to the kids of MS 50 and to Ben Honoroff and his great staff!
"Unlikely Brooklyn middle school debaters best in the five boroughs — and maybe in the USA" 
By WES PARNELL and Larry McShane
NEW YORK DAILY NEWS |
Middle School 50 principal Benjamin Honoroff is proud of his debaters, including Grant Shan Jr, (left), 14, and Kevin Ascencion, 13.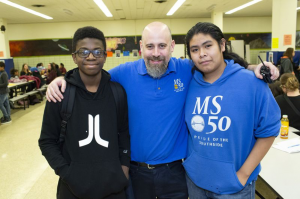 (Kevin C Downs for New York Daily News)
There's no argument here: The debate team at Middle School 50 is breaking down its opponents — and stereotypes.
The squad from the Williamsburg school, just three years from nearly closing its doors for good, is now one win away away from reaching the national championships in Houston.
"We constantly not only compete against schools with more funding, but we also win," said proud school principal Ben Honoroff. "It's working harder, smarter and longer … I leave school inspired every day."
The Brooklyn school remains an unlikely launching pad for the fast-thinking youths who captured the last three citywide debate titles. Just three years ago, with the student population down from 1,200 to just 165 over the previous two decades, the school teetered on the edge of extinction.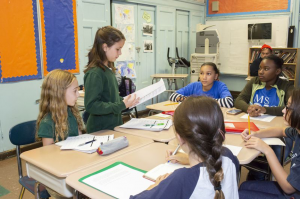 Students debating whether junk food or healthy food should be served in schools in New York City. Middle School 50 in Willliamsburg, Brooklyn.(Kevin C. Downs for New York Daily News)
But the program, available for students in either English or Spanish, altered both the future of the school and its participants. Enrollment now stands at 300, with one in kids five enrolled in the debate program.
 On Saturday, the team members hosted a debate for 100 students from seven local elementary schools as they spread the good word.
Student Diego Pena, a Dominican native who came to MS 50 in early 2017, cited the debate team for his metamorphosis from a kid with no dreams to an aspiring attorney.
"It teaches you how to think, how to analyze both parts of the argument," said Pena, a star student who now works with younger debaters. "The debate is something grand that opens your mind to many things."
The Texas trip is not the first national attention for the MS 50 debaters. New York's Democratic Rep. Nydia Velazquez previously honored the team with a speech and a plaque on the floor of the House of Representatives.
The program began with just four students in 2013. While morale and membership exploded, not everything has changed: Nine out of 10 of the school's poverty-stricken students still qualify for a free lunch.
Janier Espinal, a fifth-grader, hopes to join the MS 50 squad next year. With the aid of the older students, he notched a pair of first-place finishes Saturday in Spanish-language and individual debate.
 "I feel like I'm doing something big," said the Dominican immigrant, who one day hopes to work in the White House. "I always wanted to come here to learn English, help my family and get a better life."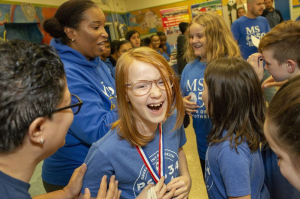 A student from Public School 34 debating team is joyful after winning a medal.(Kevin C. Downs for New York Daily News)
Eighth-grader Kevin Ascencion, 13, recalled how the competitions boosted his self-confidence and ability to handle pressure.
"It's really nerve-wracking going against top-ranked schools," said the son of two Mexican immigrants. "But it helps you to be competitive and teaches you how to step up."
Parent Steve Guerrero, father of 10-year-old debater Juaquin, was stunned by the composure of the kids.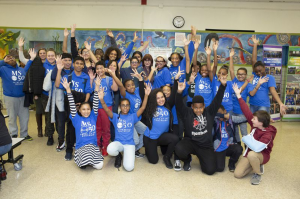 The members of the MS 50 debate team are seen at the school in Brooklyn. (Kevin C. Downs for New York Daily News)
"I would have never expected kids of this age to be this articulate," he marveled. "I would have vomited and started crying if I had to do this when I was 10 years old."
MS 50 teacher Caroline Hidalgo, who launched the Spanish language team, recalled breaking down in tears when Pena told her about his hopes.
"I never thought I created a difference like that," she recounted. "Now every time I wake up in the morning, I wake up with more life knowing that I am making a good impact.