We at No Hate No Violence see the "Community Loaves" project as a great example of how one community-spirited contribution by a single individual can make a real impact. Started by a Seattle college administrator and amateur baker, the simple act described in this news story and video is helping thousands of people. (The video is embedded halfway through the news story)
This inspires us to do likewise, as we hope it will similarly inspire our readers, with each of us finding our individual ways to help those who are less fortunate and in need in our communities. The generous person in this video is very good news for Seattle and shows how the actions of one person can change our perception of an entire community by their act of caring and contributing.
If all of us and especially our leaders encourage such simple good deeds by individuals, and by people acting together on behalf of others, that will make the kind of difference that can change the world.
As "Community Loaves" project founder Katherine Kehrli says "This has restored my faith in the collective good that we can actually do."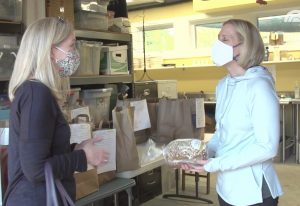 As we at NoHateNoViolence say:
"Stop talking do something"
And send us your uplifting stories of people who have!